---
Hauptinhalt
Topinformationen

1 March 2020 – European Law Institute approves the Model Rules on Online Platforms
The results of the ELI project on Model Rules on Online Platforms were approved by the ELI Council on 30 January 2020 and the ELI Membership on 28 February 2020.
The full text of the ELI Model Rules is available here.
5 September 2019 – Presentation of Final Results at the Annual Conference and Meetings in Vienna
The Draft Model Rules on Online Platforms elaborated by the Project Team will be presented and discussed with the ELI's members and stakeholders at the annual Conference in Vienna. Afterwards the ELI Council and the General Assembly will vote on adopting the Model Rules.
27-28 June 2019 – Joint Meeting Team, Advisory Committee and MMC Meeting in Brussels
The Project Team met with members of the Advisory and Consultative Committees in Brussels on 27 and 28 June 2019 to discuss the up-to-date version of the Draft Model Rules.
The objective of the meeting was to deliberate the complete draft once again, concentrating on still existing options and uncertainties. In light of the upcoming ELI Annual Conference in September, the Team made notable advancements in restructuring and finalising the Rules.
Furthermore, a meeting with stakeholders of different interest groups took place on the afternoon of 27 June. Essentially, the discussion proved that the Model Rules are suitable for purpose. The significant points of focus included provisions on reputation systems and on the liability of the platform operator.
Following the meeting, the Redaction Committee will work on finalising the draft by considering the result of the discussions with the above Committees and with stakeholders.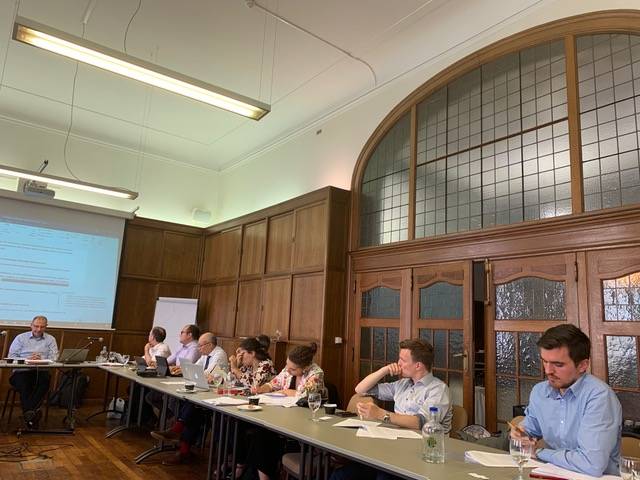 14-15 March 2019 – Project Teams Meeting in Brussels
Members the Project convened from 14–15 March 2019 for a two-day meeting at the Maastricht University Campus in Brussels.
The meeting was divided into several working sessions permitting substantive discussions on different sections of the Rules, specifically on reputational systems and redress. The focus was to enhance the overall coherency of the text. The evening was concluded with a dinner, which ELI President Wendehorst also attended.